Nature Boosted by Science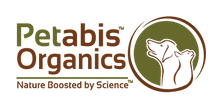 Bruce & Willy's Natural Pet Source is proud to carry Petabis Organics in Geneva, Illinois. At Petabis™ Organics, we are passionate about providing dynamic and next-generation wellness solutions to help improve the quality of life and health for the pets we love. Like you, OUR FUR KIDS ARE FAMILY.
We help provide potential layered natural health benefits, combined with expertise in holistic veterinarian care and traditional herbal medical systems, to help deliver premium 100% natural USDA Certified Organic herbs and the science of USDA Certified Organic CBD PCR (Phyto-Cannabinoid Rich) Hemp Oil products, through our unique and cutting edge product line, designed to help address our pet's most important conditional needs.
Dog Product
CBD HEMP OIL 300 mg. LARGE BREED DOGS
CBD HEMP OIL 75 mg. SMALL BREED DOGS & CATS
CBD HEMP OIL 600 mg AT-RISK & CHRONICALLY Ill DOGS
CBD HEMP OIL 150 mg. ALL LIFE STAGE Dogs
Cat product
ORGANIC ACTIVE CBD OIL CAPSULES FOR DOGS & CATS
ORGANIC CBD TOPICAL SALVE DOGS, CATS SMALL ANIMALS & HORSES*
CBD DAILY CALMING SUPPORT 5 MG LARGE BREED NUTRI 
ORGANIC CBD CAPSULES FOR DOGS CATS & HORSES